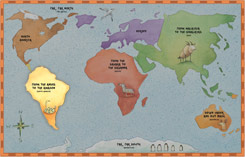 Click to return to the interactive map


ACTIVITY
Create a (Recycled) Rainforest
in Your Classroom
Decorate a 3D bulletin board using reused/recycled materials – rolled paper tree trunks, twisted brown bag vines and streamers (paper, tulle, etc.) for leaves. Mount colorful rainforest art and writing on wall. Hang other projects from ceiling.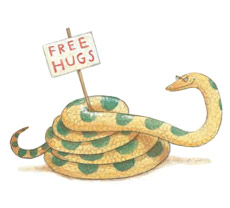 SITES WORTH A VISIT
Explore the rainforest at these sites for teachers, parents and kids.
Rainforest Alliance
Check out the standards-based K-8 rainforest curriculum available here. Kids' Corner contains online games, virtual storybooks, virtual rainforest visits, coloring pages, animal facts and activities.
Passport to the Rainforest
Explore extensive resources on the rainforest and learn about the agouti, howler monkey, piranha, sloth and more.
PBS – Journey Into Amazonia
Play Amazon Explorer, an online animal facts game, and check out the teacher resources.
National Geographic Kids – Anaconda
Learn about the green anaconda, one of the largest snakes in the world, and watch it swim.
National Geographic Kids – Sloths
What do sloths do all day? Find facts, photos, video, sound clips, maps and printouts.
How Stuff Works Videos – Agouti Teeth
How does one little rodent keep the rainforest growing? Check out this amazing video about agouti teeth.
BOOKS ABOUT THE RAINFOREST
Check out this extensive list of rainforest resources in print.
Rainforest Alliance – Learning Site Bibliography
The Rainforest Alliance has put together a thorough bibliography of rainforest books – an excellent resource.